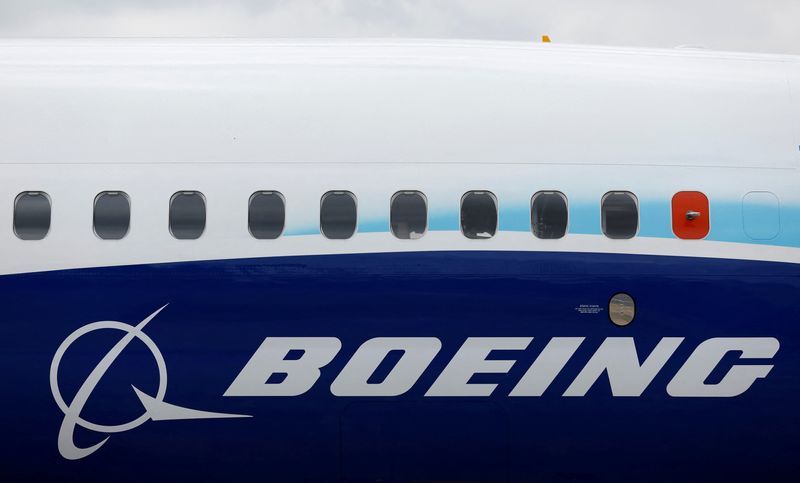 © Reuters. FILE PHOTO: The Boeing logo is seen on the side of a Boeing 737 MAX at the Farnborough International Airshow, in Farnborough, Britain, July 20, 2022. REUTERS/Peter Cziborra
By Valerie Insinna and Tim Hepher
WASHINGTON/PARIS (Reuters) -Boeing said on Thursday it is merging its decades-old aircraft-financing arm with its commercial airplanes unit as part of a push to simplify its corporate structure.
After the retirement of Boeing (NYSE:) Capital Corp (BCC) President Tim Myers this spring, Boeing said it would "realign" the financing arm within the commercial airplane unit while maintaining "strong coordination" with Boeing's treasury arm.
Airfinance Journal earlier reported the move.
Boeing Capital, a subsidiary of Boeing, provides asset-based financing and leasing to airlines.
The realignment will "focus resources on our core work of supporting our customers and their financing needs," Boeing Chief Financial Officer Brian West said in an internal memo viewed by Reuters.
The closing of Boeing Capital continues a trend for Boeing to consolidate its operational structure and ends a significant chapter in the fast-expanding air finance industry.
Boeing in November announced a reorganization of its defense unit that halved the number of sub-divisions. It has also moved to cut 2,000 white-collar jobs in finance and human resources.
FIREPOWER
The move comes days after the final delivery of the Boeing 747.
BCC was credited with prolonging the reign of the Queen of the Skies for several years after stepping in to finance the sale of freighters to Volga-Dnepr with leasing deals when other financiers were reluctant to back the aging jet.
Operating as a lender of last resort, BCC was a source of firepower in the global jet market, dating back to 1968 under McDonnell Douglas and working alongside the U.S. EXIM bank, which it fought to save in a Congressional dispute.
BCC stood ready to buy back jets and lease them to airlines and more helped shore up market support for the Boeing 737 MAX, according to market sources. As the availability of capital for aviation has grown, with investors hunting for dollar-denominated yields, BCC has been a vocal proponent of multiple types of funding for airlines.
"The asset class is real. It's not a niche class any more," industry veteran Myers told reporters in 2018.
A Boeing spokesperson said the shift will provide airlines "with more consistent support" for arranging aircraft financing. Boeing did not say whether any jobs would be affected.
Rob Martin, finance chief for the commercial airline business, and Boeing Treasurer David Whitehouse will be responsible for the transition, West said in the memo.