3/3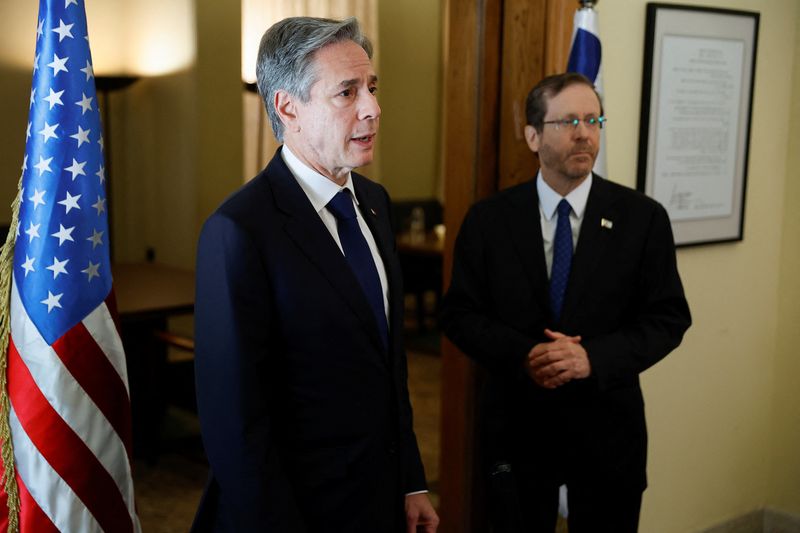 © Reuters. U.S. Secretary of State Antony Blinken meets with Israeli President Isaac Herzog, during his visit to Israel, amid the ongoing conflict between Israel and the Palestinian Islamist group Hamas, in Tel Aviv, Israel November 3, 2023. REUTERS/Jonathan Ernst/P
By Simon Lewis and Ari Rabinovitch
TEL AVIV (Reuters) -U.S. Secretary of State Antony Blinken on Friday urged Israel to temporarily stop its military offensive on Gaza to allow for aid to enter the Palestinian enclave but faced pushback from Prime Minister Benjamin Netanyahu who rejected any such halt unless hostages held by Hamas militants are freed.
Blinken was in the Middle East for a second time in less than a month seeking to balance Washington support for Israel over a deadly Oct. 7 Hamas attack with concern over civilian casualties that have soared under an Israeli bombardment.
While the United States has maintained robust support for Israel, its rhetoric has increasingly shifted towards boosting humanitarian aid to Gaza, taking steps to avoid civilian deaths and setting up pauses in the fighting to facilitate work to free more than 240 hostages seized by Hamas in Israel.
Speaking at a news conference, Blinken called for a humanitarian pause, saying it would allow for aid to enter Gaza, facilitate the work to secure the release of hostages while enabling Israel to achieve its goal of defeating Hamas.
He said he had discussed with Prime Minister Benjamin Netanyahu and Israel's war cabinet how, when and where pauses can be implemented and what understandings must be reached. He said Washington recognised this would take time and require coordination from international partners.
His comments signalled any agreement with Israel remained elusive, with many sticking points yet to be hammered out.
"A number of legitimate questions were raised in our discussions today including how to use any period of pause to maximize the flow of humanitarian assistance, how to connect the pause to the release of hostages, how to ensure that Hamas doesn't use these pauses or arrangements to its own advantage," Blinken told reporters at a Tel Aviv press conference.
"These are issues that we need to tackle urgently, and we believe they can be solved."
NO PAUSE WITHOUT HOSTAGES' RELEASE, NETANYAHU SAYS
Speaking shortly after Blinken, Netanyahu in a televised statement rejected the idea. "I made clear that we are continuing full force and that Israel refuses a temporary ceasefire which does not include the release of our hostages."
Like Israel, the United States has dismissed growing international calls for a ceasefire but has sought to persuade Israel to accept localized pauses.
Blinken, U.S. President Joe Biden's top diplomat, last visited in the aftermath of the Oct. 7 Hamas attack in which Israel says 1,400 people were killed, triggering the bloodiest escalation in years of Israeli-Palestinian conflict.
Gaza health authorities say more than 9,000 people have been killed since Israel launched its assault on the enclave.
Ahead of a meeting with Israeli President Isaac Herzog, Blinken reiterated that Israel has a right to "do everything possible to ensure that this Oct. 7 can never happen again."
Herzog said Israel was going to great lengths to notify residents of airstrikes, holding up one of the pamphlets that he said Israel had dropped telling civilians to leave north Gaza. He said Israel had urged Gazans to leave in text messages and phone calls ahead of the offensive.
Families of some of the hostages gathered outside the military complex in Tel Aviv where Blinken was meeting with Israel's leaders. They called for there to be no ceasefire until Hamas releases all hostages.
Blinken said 100 humanitarian aid trucks were entering Gaza through Rafah crossing from Egypt daily but that was not enough.
"I spoke to Israeli leaders about tangible steps that can be taken to increase the sustained delivery of food, water, medicine, fuel and other essential needs, while putting in place measures to prevent diversions by Hamas and other terrorist groups," Blinken said.
Another priority for Blinken has been to ensure the conflict does not spread.
Speaking at the same time as Blinken, Sayyed Hassan Nasrallah, the leader of the Iran-backed Hezbollah group in Lebanon, warned the United States that if Israel did not stop its assault on Gaza then the conflict could widen into a regional war.
Blinken said Washington was determined there should not be a second or third front in the conflict and that it was committed to deterring aggression from any party.
""With regard to Lebanon, with regard to Hezbollah, with regard to Iran – we have been very clear from the outset that we are determined that there not be a second or third front opened in this conflict," Blinken said when asked if the U.S. would be willing to turn its regional firepower on targets in Lebanon and Iran.