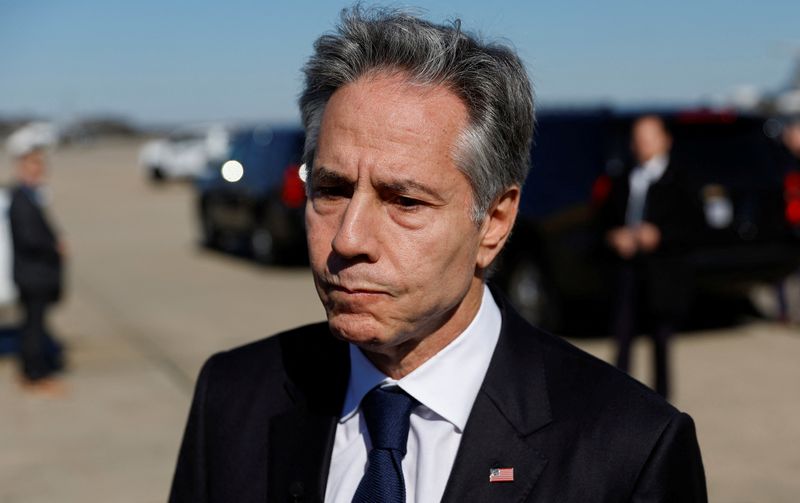 © Reuters. U.S. Secretary of State Antony Blinken speaks to reporters about the war between Israel and Hamas and the situation in Gaza as he boards his aircraft to depart Washington on travel to the Middle East and Asia at Joint Base Andrews, Maryland, U.S., Novembe
By Joe Bavier, Nellie Peyton and Bhargav Acharya
JOHANNESBURG (Reuters) -President Joe Biden's administration wants to work with Congress to improve the United States' flagship trade programme with Africa, not just renew it without changes, U.S. Secretary of State Antony Blinken said on Friday.
First launched in 2000, the African Growth and Opportunity Act (AGOA) grants exports from qualifying African countries duty-free access to the United States – the world's largest consumer market.
It is due to expire in September 2025, and discussions are currently under way over what would be its third reauthorisation.
African countries are pushing for an early 10-year extension without changes to reassure businesses and investors.
Despite longstanding bipartisan support from U.S. lawmakers, who view AGOA as critical in countering the influence of China in Africa, there are divisions over the need for updates.
A recent push in the U.S. Senate is aiming to pass a quick AGOA renewal. Biden has also said he fully supports the initiative's reauthorisation.
"But we don't just want to extend AGOA, we want to work with the United States Congress to make it even better," Blinken said in a video message to U.S. officials and African trade ministers meeting in Johannesburg to discuss AGOA's future.
'FORWARD-LOOKING VISION'
Over $10 billion worth of African exports entered the United States duty free last year under the programme. However, the U.S. International Trade Commission earlier this year highlighted major shortcomings.
More than 80% of duty-free non-petroleum AGOA exports, for example, have come from just five countries – South Africa, Kenya, Lesotho, Madagascar and Ethiopia – in recent years.
"We see that there is opportunity to shape a stronger, new, forward-looking vision for U.S.-Africa trade," U.S. Trade Representative Katherine Tai, who is leading the U.S. delegation, told the African ministers.
Judd Devermont, Biden's special assistant on Africa, told Reuters the U.S. delegation had come to Johannesburg to consult with African officials on what was possible.
"We want to reauthorize AGOA as soon as possible," he said. "The absence of the AGOA legislation would be deeply troubling for (African) economies. But I think there are different views on how to reform it."
African governments and U.S. industry associations worry that attempts to radically alter AGOA risk bogging the programme's renewal down in a Congress that is already struggling to pass even the most critical legislation.
"We would like you to look at an extension of AGOA for a sufficiently lengthy period … to act as an incentive for investors to build factories," South African President Cyril Ramaphosa told the forum.
African governments are also pushing for more flexibility concerning eligibility criteria and a loosening of what is now an annual review of those criteria.
The Biden administration said on Oct. 30 it intended to end the participation of Gabon, Niger, Uganda and the Central African Republic in AGOA over governance and rights failings.
Harriet Ntabazi, trade minister of Uganda, whose country was suspended over "gross violations" of internationally recognised human rights, said such issues should be separated from trade.
Ugandan government officials have linked their exclusion to an anti-homosexuality law that was passed by its parliament in May.
"Mistakes are human. If they have been done, reconsider and we go into negotiations. We've never had this chance to sit together and agree. Give us another chance," Ntabazi said.