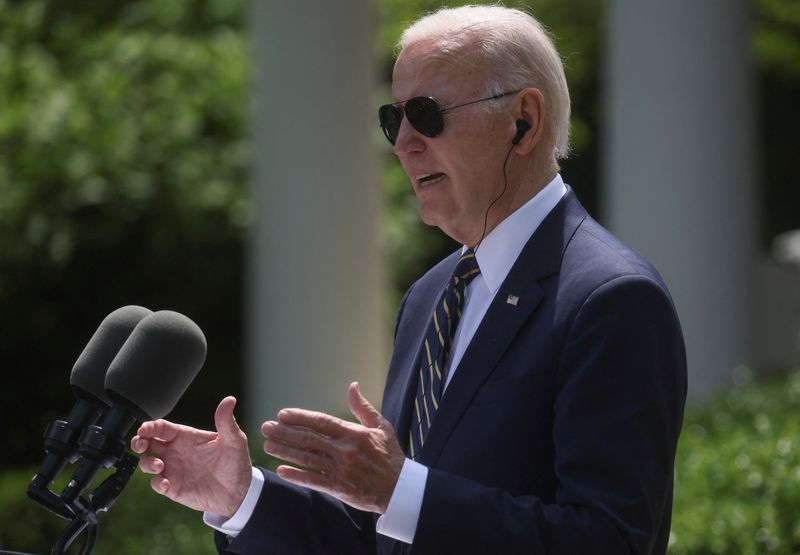 © Reuters. U.S. President Joe Biden speaks during a joint news conference with South Korea's President Yoon Suk Yeol in the Rose Garden of the White House in Washington, U.S. April 26, 2023. REUTERS/Leah Millis
By Trevor Hunnicutt and Nandita Bose
WASHINGTON (Reuters) -U.S. President Joe Biden said on Wednesday he may not be the only one who can beat Donald Trump in 2024, but that he knows him well, touting his familiarity with the way the former president works a day after launching his reelection bid.
"I may not be the only one, but I know him well and I know the danger he presents to our democracy," Biden said. "We've been down this road before."
Biden launched his reelection bid on Tuesday with a promise to protect American liberties from "extremists" linked to Trump and made his announcement in a video with imagery from the Jan. 6, 2021, attack on the U.S. Capitol by Trump's supporters.
Biden further clarified he would still be running for office in 2024 if Trump was not and said his favorable ratings currently are similar to his predecessors.
" I took a hard look before I decided to run and I feel good, I feel excited about the prospects and I think we're on the verge of really turning the corner in a way we haven't in a long time," Biden said.
The president said there is more he needs to do to position the United States so it is "economically and politically secure for a long time."
"I think that we have to finish the job," Biden said.
Earlier on Wednesday, Biden's reelection campaign released its first advertisement for the 2024 cycle. It features the Jan. 6 riots at the Capitol and focuses on issues like gun violence, abortion and safeguarding democracy.
The ad will air on national cable channels in Arizona, Georgia, Michigan, Nevada, Pennsylvania and Wisconsin, all key battleground states that are likely to determine the winner of the 2024 presidential election. Biden carried all six states in 2020.
Priorities USA, a Democratic super PAC, announced it will spend $75 million toward digital ads in these six battleground states.
The ad does not directly go after Republicans, but references "an extreme movement that seeks to overturn elections, ban books, and eliminate a woman's right to choose."