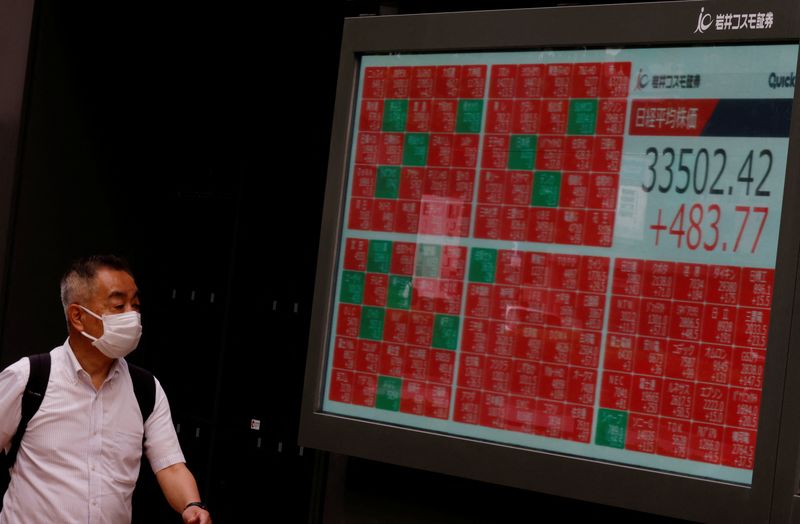 © Reuters. FILE PHOTO: A man looks at an electric board displaying the Nikkei stock average outside a brokerage in Tokyo, Japan June 14, 2023. REUTERS/Kim Kyung-Hoon/File Photo
By Scott Murdoch
SYDNEY (Reuters) – Asian share markets rallied on Thursday and the dollar was weaker after most U.S stocks edged higher and the recorded its longest winning streak in two years, with investors on high alert for signs that global interest rates have peaked.
MSCI's broadest index of Asia-Pacific shares outside Japan was flat, although up 4.6% so far this month.
The yield on benchmark reached 4.5059% compared with a U.S. close of 4.523% on Wednesday.
The two-year yield, which rises with traders' expectations of higher Fed fund rates, touched 4.932% compared with a U.S. close of 4.936%.
Australian shares were up 0.44%, and stock index was up 0.85%.
Hong Kong's was up 0.11% in early trade while China's bluechip CSI300 Index was 0.2% higher in early trade.
"Markets were relatively calm following recent volatility as participants await the release of next week's October U.S. CPI report and try to ascertain whether last week's moves in U.S. Treasuries, equities and the dollar are corrective or represent a fundamental shift in direction," ANZ economists wrote.
Chinese inflation figures for October published on Thursday showed a 0.1% decline compared to September and a 0.2% fall from one year, according to official statistics.
China's troubled property sector will be closely watched on Thursday after most major stocks rallied one day earlier following a Reuters report that Ping An Insurance Group had been asked by the Chinese authorities to take a controlling stake in Country Garden Holdings .
A spokesperson for Ping An said the company had not been approached by the government and denied the Reuters report that cited four sources familiar with the plan.
In Asian trading, the dollar dropped 0.06% against the yen to 150.88. It remains not far from its high this year of 151.74 on October 31.
The European single currency was up 0.0% on the day at $1.0709, having gained 1.25% in a month. The , which tracks the greenback against a basket of currencies of other major trading partners, was down slightly at 105.52.
The dollar has rebounded from last week's sharp sell-off on rising confidence the Fed has ended raising rates. There is less agreement on whether a rate cut is on the horizon with inflation still above the U.S. Federal Reserve's 2% target.
On Wall Street, the S&P 500 rose 0.10% and the added 0.08%. The fell 0.12%.
The S&P 500 rose for the eighth consecutive day, extending its longest win streak in two years.
The Federal Reserve last week kept the benchmark overnight interest rate in the current 5.25%-5.50% range and the central bank is due to meet again mid next month.
The U.S weekly jobless claims published on Thursday will be closely watched as an indicator of the how the country's labour market is performing. Economists predict claims will reach 219,000 after coming in at 217,000 last week.
Oil prices slid over 2% on Wednesday to their lowest in more than three months on concerns over waning demand in the U.S. and China. In Asia on Thursday, and both rose 0.8% following the weak performance in the U.S. session. [O/R]
Gold was slightly higher. was traded at $1950.79 per ounce. [GOL/]