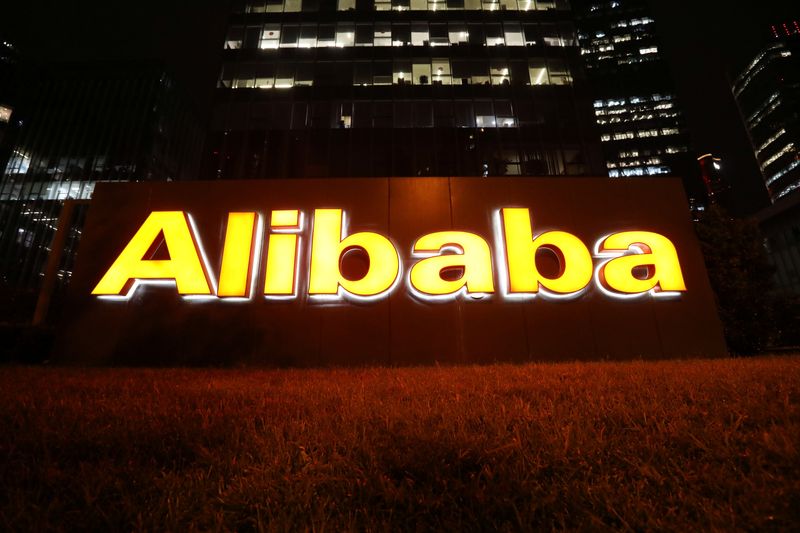 © Reuters. FILE PHOTO: The logo of Alibaba Group is lit up at its office building in Beijing, China August 9, 2021. REUTERS/Tingshu Wang/File Photo
By Casey Hall and Akash Sriram
(Reuters) -Alibaba Group on Thursday scrapped plans to spin-off its cloud business, citing uncertainties created by U.S. export curbs on chips used in artificial intelligence applications.
The announcement came alongside in-line second-quarter revenue from the Chinese e-commerce group, which in March had unveiled plans to carve out the cloud business as part of the biggest restructuring in its 24-year history.
The company also put on hold plans for an initial public offering of its Freshippo groceries business but said it would prepare external fundraising for its international digital commerce group arm.
Alibaba (NYSE:)'s logistics division, Cainiao applied to list in Hong Kong in September.
Alibaba's U.S.-listed shares were down 8.4% in premarket trading.
"The recent expansion of U.S. restrictions on export of advanced computing chips has created uncertainties for the prospects of Cloud Intelligence Group," Alibaba said.
Alibaba's former group CEO Daniel Zhang abruptly quit just two months after concentrating his focus on cloud computing.
The company then appointed Eddie Wu, one of Alibaba Group's co-founders and long-time lieutenant of former chief Jack Ma, as both CEO of Alibaba and the cloud business.
Analysts had in March estimated the cloud division could be worth between $41-60 billlion but had warned that its listing could attract scrutiny from both Chinese and overseas regulators due to the reams of data it manages.
Regulatory filings also revealed on Thursday that Ma's family trust plans to sell 10 million American Depository Shares of Alibaba Group Holdings for about $871 million.
Alibaba reported second-quarter revenue of 224.79 billion yuan ($31.01 billion), in line with the 224.32 billion expected by analysts, LSEG data showed.
China's economic recovery has been uneven. While the industrial and the retail sectors have performed better than expected, the crisis-hit property sector has weighed on consumer confidence.
Customer management revenue from Alibaba's commerce retail, which tracks how much money merchants provide Alibaba for placements and promotions, grew 3% year-on-year. Alibaba asked merchants to price aggressively during the country's Singles Day festival taking on competitors such as Douyin and PDD Holdings' Pinduoduo (NASDAQ:) which have been selling lower-cost products year-round.
Alibaba International Digital Commerce (AIDC) a business that includes platforms such as Lazada and AliExpress, however reported a 53% rise in revenues, with retail revenue up 73% year-on-year. Analysts had predicted that strong international growth might help Alibaba offset a tepid domestic market.
Industry research firm Cross Border Commerce Europe said in October that Alibaba-owned AliExpress became the top cross-border online marketplace (in Europe), taking the top spot once dominated by U.S. giant Amazon.com (NASDAQ:). The cross-border platform environment has become more intensely competitive with the emergence of PDD Holdings-owned Temu.
($1 = 7.2481 renminbi)